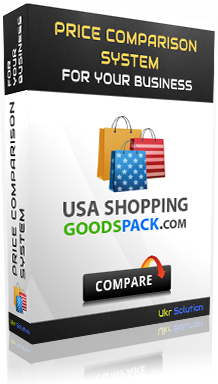 Create Your own
Comparison Shopping engine
Get Embed Code
GET STARTED
It is Free
PRICE COMPARISON SHOPPING WEBSITE

Make more money from your web-site

Get Wordpress plugin

Get Joomla plugin

«GoodsPack» - is price comparison shopping engine which allows your web-site visitors to search, compare and buy products from thousands merchants in USA, like: Walmart, Zappos, Target, Newegg, Rakuten and thousands of others.
But the main advantage of using it - you are getting additional income from your web-site - You will be getting commission from each sale which your visitors do (2% - 15% from each order).

Using this search engine you don't have to spend your budget and time for web-development - you just need to embed GoodsPack into web-site1 (just like embed video from YouTube) and start earning money right away.


Price Comparison System will make your business more competitive & profitable:
GoodsPack allows to expand range of services provided by your web-site. Web-site visitors will do shopping directly from your web-site - it will increase your Brand awareness and will have a good influence on SEO.
We are working on improvements for GoodsPack all the time - we make search results more relevant, adding new filters and other features. So you will be always going with the times.
GoodsPack can be customized. Your developer (or we) can change look of GoodsPack to fit your web-site design.
Free version is available - so, you can start earning money without any cost.
We are always open for new ideas and suggestions, let us know what your business need from GoodsPack
Popshops and Prosperent establish limits for amount of searches per month. Using caching and other techniques we increase these limits twice or even thrice.
And finally - You get all commission from sales - we don't take any %.
Our team specializes at price comparison shopping systems, data feeds and e-commerce platforms. We are using the newest technologies and UI technics to achieve the best sales results for your business.
So, don't hesistate - download plugins for Wordpress/Joomla (or use embed code) and open a new opportunities for your business.



GET STARTED

It is Free

---
1) We glad to help you with embedding GoodsPack into your web-site just for €5, please contact us.
1. Embed GoodsPack into your web-site
In order to embed GoodsPack into your web-site you just need to copy a small piece of code and paste on the page, where it should appear. It is free, even registration is not required.



Show code example

You can use this code right now to embed it into your web-site:

2. Select Product Search engine

GoodsPack uses special services/engines which provide access to hundreds (or even thousands) merchants and their products. Right now, our price comparison system, supports 2 engines:
1. Popshops 2. Prosperent
These engines have a lot of differences and both have it's own pros & cons. But if you would like a fast start and start getting commision from sales right away, Popshops - is your choice.



What is the difference between Prosperent and Popshops ?
Price
Takes 30% of the
commission earned
30% from sales or
Fixed 59.99$ per Month
Searches limit
per Month
-
5000
Product Search
Yes
Yes
Discount Search
No
Yes
Merchant Search
Yes, but without commision
Yes
Quality of images
From 75x75px
to 500x500px
From 75x75px
to 1024x1024px

Easy of use.
How fast can I start earning money
During 1 day
During 1 day
After registration (on Prosperent or Popshops) you need to connect newly created account to GoodsPack, there are 2 ways how to do it:
1. Provide us with login and password and we will do it for you.
2. You can connect account to your GoodsPack by yourself.



How can I connect it by myself ?

You need to do next steps:
1. Sign up on our web-site
2. In "My Account" you need to find GoodsPack and fill settings: Web-Site and API Key which you need to get from Prosperent or Popshops accounts.


3. Profit

After previous 2 steps GoodsPack will be working on your web-site and all commision from sales will be going on your account (to Prosperent or Popshops)



5.0
3
What our clients say about GoodsPack
Great system !!! Now my clients can look for products and buy them directly from my web-site.
It is a great tool to make my services more competitive.

Thank you!
John, USA
John USA
Price Comparison System - GoodsPack
Really proffessional comparison shopping search system - great design, very light, works really fast.

It is a great way to monetize my web-site.
Well done!
Mira, USA
Mira USA
Price Comparison System - GoodsPack
What can I say, it is the best solution on the market - easy to integrate with web-site, cheap, great support and very good set of tools.

It is the right choice!
Bella, USA
Bella USA
Price Comparison System - GoodsPack
Price Comparison System - GoodsPack
Have a question about GoodsPack ?