Export Joomla Users to Excel or CSV File
Filter & Download users with custom data, Contacts component is supported
Allows to export any user data fields into Excel or CSV file.
Export any data from Contacts component like address, phone or birthday.
Find and Filter users by any criteria before exporting them.
This superb export users extension allows with no efforts to export/download users from your Joomla and preinstalled "Contacts" component. All Joomla users can be exported into Excel (xlsx) or CSV (Comma-Separated Values) file formats. Exported users in file can be used for any purposes: to import into another systems, for mass emailing, sharing with your business partners, etc.
Our Joomla user Export allows to export any user data stored in Joomla and Contacts component:
Joomla: Id, Name, Username, Password, Email, Params, Block, Send Email, Register Date, Last Visit Date, Activation, Last Reset Time, Reset Count, User Groups.
Joomla User Fields: any custom field created with Joomla User Fields .
Contacts: Full Name, Image, Position, Email, Address, City/Suburb, State/Province, Postal/ZIP Code, Country, Telephone, Mobile, Fax, Website, Description, Registered date.
See what our clients have achieved using our export:
Josefa

,

CEO

,

Spain

"Excellent user export solution!
I use it during last 3 months and everything works just perfect.
Export is very friendly, works fast and most important for me - all user information can be exported in Excel file instead of csv (I don't know this format)
Thank you!"
Charlie

,

Business Analyst

,

Sweden

"Our agency analyze shoppers data to have better understanding of client's behavior and their shopping preferences. Some our clients has Joomla based shops, so it was very important to have advanced export solution. We tried a few extensions but only this one allowed us to export all needed shoppers' data from Joomla and import it into our system to analyze.
Extension is very powerful and at the same time it is very easy to use."
Tomas

,

Web-Developer

,

Czech Republic

"It is amazing tool! Our agency was hired to develop user export component with some specific requirements. First our team wanted to develop it from scratch but we stumbled upon this export from UkrSolution team. After short meeting we decided to use this one instead of developing a completely new one. After a few consultations with support, we customized export to meet client's needs.
Thanks a lot!!! We saved up to 70% of development time. "
The main features of "Export Joomla Users + Contacts" extension:
Order / sort columns the way you need, before export
Export users who belong to a specific group(s).
Select what to export (e.g. Name, Email and Last Visit Date). By default all data is exported.
You can exclude (filter) some users, e.g. export all users registered last week and users whose name is "Tom".
Allow users on your web-site (on front-end) to use export extension with predefined settings
Choose exported file type you prefer: Excel or CSV.
If you would like to use CSV format you can specify separator (";" - default separator)
Save all these settings into "Profile" and download file in one click next time.
Grant / limit access to "Export Users" component for certain Joomla User Groups
NEW*: Download Personal Data - each user can download his personal data in CSV/Excel format. You can specify fields, fields' order, etc. that user will see in downloaded file. Check more details in FAQ section.
Export up to 100 000 users per file with Business and Premium versions.
Buying our export extension, you will also get:
Free updates for 3 months, notifications of new features, fixes & updates.
3 months support via Email, Skype or TeamViewer.
What is "Contacts" component ?

By default Joomla has preinstalled extension called "Contacts". You can find it in your Joomla, Go to:
Admin Panel->Components->Contacts menu.

It allows to store more data about users like Address, City, Country, Website, etc.

"Contacts" component allows to create a few contacts and link them to user, so you can store any amount of addresses for each user.

Our export supports this component and can export all data from it.

How can I export users' plain text passwords from the Joomla?

Unfortunately it is not possible to export plain passwords. Joomla store passwords in encrypted way using special cryptographic algorithms, so even Joomla doesn't know them. But encrypted passwords can be used to move users from one Joomla to another.
Notice: Joomla 1.5 and 3.x use different cryptographic algorithms, so they are incompatible.

What is the difference between Excel and CSV file formats?

CSV - Comma Separated Value is a very simple and lite file format.

As you know MS Excel supports a lot of features like text colors, cell styles, inserting charts and images, etc... CSV format is a very simple and can contain only text data. For example if you create Excel sheet and write "yellow" text, CSV format will save only text but information about color will be lost.

How can I download/export users on front-end?

Please follow next steps:

1. You need to create Profile. A profile - it's saved template with selected export settings. You can use it to download users later by clicking on Profile name in "Download Profiles" tab.

2. Afterwards please go to "Website Profile(s) Share" and select User Groups and/or Users that should be able to download the Profile. And click "Save" button.

3. Go to Menus. Create new menu and select its type using "Menu Item Type" field. Popup with menu types will appear, click on "Export Users ..." and then on "Download Profiles". Then "Save" menu. Go to frontend, login under user that should have access to it and download users.

How to use "Download Personal Data" feature?

Please follow next steps:

1. You need to create Profile. A profile - it's saved template with selected export settings.

2. Go to Menus. Create a new menu and select its type using "Menu Item Type" field. Popup with menu types will appear, click on "Export Users ..." and then on "Download Personal Data". Then "Save" menu. Go to frontend, login under any user and download file.

I have found a bug, how can it be fixed?

You need to send email to us and provide us with details:

How to reproduce bug
Screenshots of bug
Best way to describe the problem is to create video (you can use software like Jing)

If you subscribed to support, you can count on fast update (1-2 work days)

Auto update doesn't work. How can I get the latest version of extension ?

Unfortunately Auto updater is not available for this extension.
To get the latest version of import you need:
1. Go to our website: www.UkrSolution.com
2. Login and go to "My Products" menu.
3. Here you will find all your extensions and can download them.


I need additional features in this extension

If you need some additional fetures, there are 2 ways:

Send us email about new feature, and we will try to implement it in next version. As we receiving a lot of suggestions some of them can be rejected.
We can create special release for you, in a short time, with all improvements you need for separate payment. Please contact us to know more about it.

How can I contact you?

Contact form on our web-site: https://www.ukrsolution.com/ContactUs
Related plugins: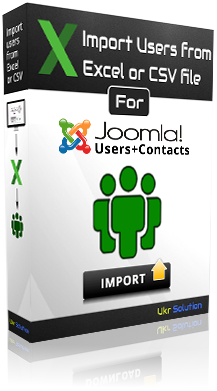 Import Joomla Users
Migrate users with custom data fields, Contacts component is supported
Write your question or comment:
5.0
3