Redmine Time Tracker app + Staff Watcher plugin
Team tracks time, managers watch what team is doing in the realtime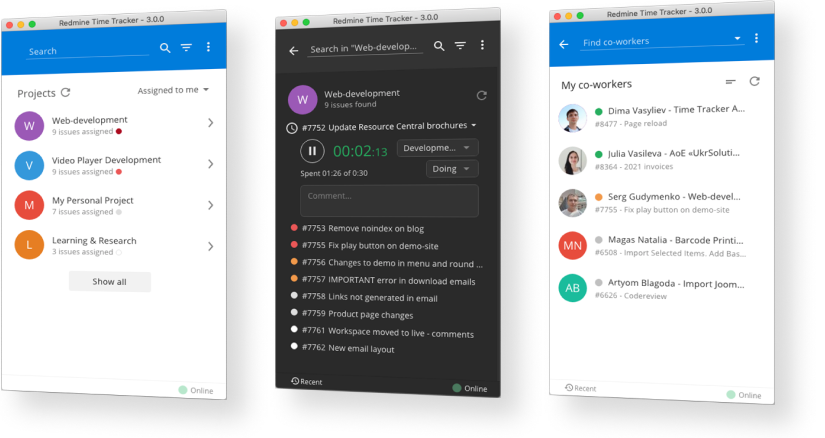 App tracks spent time on issues and stores it on Redmine
Managers see workers statuses & issues they are working on
High level of security, no third party services involved
App designed as a reliable time tracking software to help in measuring of team members performance. App allows users to track time for issues and store worked time on Redmine automatically, so there is no way that user can forget to report spent time by the end of the day.
App helps to collect spent time on tasks as accurate as possible. It can remind user to start time tracker after a coffee break or stop timer automatically if user was too long away from PC/Laptop.
Time will be stored as a common Redmine "Time Entries", so spent time will be visible with standard Redmine functionality and it also compatible with third party plugins that use "time entries" for analytics, reports, etc.
Beside time tracking functionality there is "Co-workers" and "Staff Manager" tools that allow managers to monitor users in real time.
It will keep you informed and give you answers to the most common questions:
Is user tracking time or not ?
On what project/issue app user is working right now ?
How much hours user spent today ?
Read our blog article to find out more about time tracker evolution.
App is very flexible and can be adjusted to almost any workflow and any business model. In most cases feature you need is already implemented into app, but if not - let us know and we will add it in nearest release.
Windows silent installation mode (via terminal)

[Note] - Should be run in Administrator mode.
On Windows you can run a silent install by adding the /S flag. You can also use next options:

/S - Silent install
/allusers - Install for all users (requires admin)
/currentuser - Install for current user only (default)
/disableAutoUpdates - Disable auto-updates (User can't update via dialog )

On login screen I need to enter Url, where I can get it ?

In order to send time to Redmine app needs to know link to your Redmine where issues are beeing created.


When logged time is sent to Redmine?

Depends on your workflow we are suggestions 2 modes of work:

Auto mode - app will be sending time automatically each 36 seconds.
Next actions are also a triggers for sending time to Redmine:



1. You stopped time tracking.
2. You changed issue, activity or comment.
3. You signed out or closed application.



Manual mode - Allows to have full control over time sending process, so time will be send to Redmine only by your request. This mode also allows to edit time before sending it.

Internet disappeared while tracking time. Will tracked time will be saved?

Application works in offline mode (without internet), as soon as internet connection is restored - time data will be send to Redmine. If you kill application (as process), tracked time will be saved locally and after you run it again - time will be sent to Redmine anyway.

MacOS / iOS - Tracking time stops automatically each 10 minutes due to keyboard/mouse inactivity

You need to grant access for "Redmine Time Tracker" applications in:
System Preferences -> Security & Privacy -> Privacy -> Accessibility
Or disable "auto-stop" feature in Settings by entering "0" value.
Redmine Features
Search of issues and projects
Easily switch between issues and projects with simple interface and advanced search.
Filter issues by wide range of filters e.g. Status, Priority, Assignee and others.
Select project dashboard that fits your role in team and most suitable for your tasks.
App reminds users to start time tracking after a coffee break or any other interruptions.
App can stop timer after specified timeout of user inactivity. So, only really worked time will be counted.
Tracking of multiple issues
If your workflow requires to track time for a few issues simultaneously, you can enable this option in settings.
App allows to change issue status automatically to specified one after you press start/stop button.
Find issues you have worked recently and switch between them easily without need to search them.
Sync with Redmine each 36s
App sends time to Redmine each 36 seconds, so you can be sure that all time stored on Redmine in real time.
Apps allows to sync time with Redmine manually, can be helpful if you need to save time on Redmine once a day.
App allows users to see issues & priorities their co-workers are working on. So, they know if it is good time to interrupt a person.
Timer integrated with Redmine web-pages allows to start/stop time tracking without opening the app.
App supports custom fields for "time entries", so users can specify additional information for recorded time.
App comes with 2 standard themes "Light" and "Dark", so users can select theme they more comfortable to work with.
App works on Windows, MacOS, Linux, so you can be sure that your team will be able to use tracking app.
If internet connection disappears – app will continue time tracking. Once connection is back online - time will be send to Redmine.
Centralized app configuration
Administrator can manage apps directly from Redmine and grant/revoke access to specific features.
We will support you on all integration stages. We will make sure that every feature is used to increase productivity of your team.
Interaction between app and your Redmine is secure as there is no any third party servers in between.
Gives possibility for your managers to monitor (in real time) on which issues and projects users are working on.
Write your question or comment :
5.0
3